As an independent Commercial Property Investment Agency, we begin a campaign over the coming weeks to show our support for local, regional and national independent businesses.
For our third interview, we interview Caroline Dyer, Director of 'Heard Storytelling', and former Head of Fundraising at Eat Well MCR and Fundraising and Partnerships Manager at Action Against Hunger.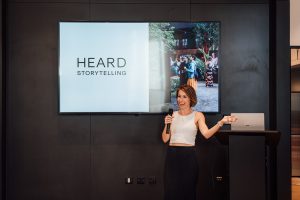 How long have you been based in Manchester and how have you seen the city change over the years?
I moved to Manchester 6 years ago and the change to the city has been significant in such a short space of time; the urban landscape, politics, public infrastructure, economics. We have a mayor with political powers now. There are skyscrapers. The diversity of the city is shifting as emerging and developing markets make Manchester their home.  We can't walk past the Manchester arena without remembering. Our Emmeline was erected. Buses are cheaper, trams are more expensive.
Something that's brilliant to see is the rise in independent hospitality businesses. When I first moved to Manchester from London I struggled to find the rich variety and quality that I was used to in London – now, we're spoilt for choice! Something which has stayed constant thoughout this change has been the community spirit of the scene.
In your opinion how important is it to the city to have a strong group of independents…
Independent thinkers and creatives are imperative to the spirit and rich tapestry of any city. One thing I noticed when I moved here was just how passionate people are about telling you their favourite part of Mancunian history. I listen to people's stories for a living, so it's a joy to listen to what lights people up about their city. When people share their favourite moment from history, it gives an insight into what's important to that individual. If I was to collectively summarise that message from Mancunians it would be independent thinking, risk taking, and the importance of community. Independents IS Manchester, I think the city would be lost without them.
Which independent restaurants and bars would you recommend? 
I love sitting in San Juan's in Chorlton; the atmosphere is great and they politely don't laugh at me practising my Spanish on them. I go there so often it feels like an episode of Cheers (Salut?!). City centre go to places: Schofields, Siam Smiles, The Sparrows, 10 Tib Lane, The Alan, Ducie Street Warehouse.
What would your perfect day in the city centre entail? 
Yoga at one of my favourite yoga studios. Breakfast at Pollen. Working on something super creative with my company Heard Storytelling. Lunch at Tast sat outside in the sunshine on Kings Street, (tricking myself into thinking I'm in Spain).
Enjoy a museum, gallery or check out what's on at HOME. Dinner at one of my favourite restaurants (see recommendations above!) then after… Well, I love a dance so let's hope something like Homoelectric is on at Hidden to complete my perfect day!
How do you see the city changing over the coming years?
The city will continue to expand outwards and upwards and I really hope it's done in a thoughtful way. I hope community and social value is considered in that process and it's not just a tick box exercise.  I'd love to see the city become greener, more inclusive and make spaces for all people to thrive. I hope the city continues to create great history and stories for generations ahead to be proud of Manchester now, not just Manchester past.
Thanks to Caroline Dyer for this insight and wonderful support to the independents business community. Massive respect also for the amazing and relentless charity work that Caroline has done over the years.