As an independent Commercial Property Investment Agency, we begin a campaign over the coming weeks to show our support for local, regional and national independent businesses.
For our second interview, we interview Michael Taylor, a recent political communication officer for the Labour Party in Greater Manchester and recently announced as TheBusinessDesk.com new North West Editor. Michael also co-hosts the 'Northern Spin' political podcast with another business editor, Chris Maguire, to give a greater voice to the North.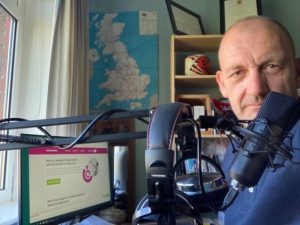 Q. How long have you been based in Manchester, and how have you seen the city change over the years?
I came here to University in 1985-88, moved back in 2000 and have been here ever since. The city has changed massively yet it still has a core of "edgy cool" that has sustained itself throughout that time.
Q. In your opinion how important is it to the city to have a strong group of independents…
Yes, I agree, it's absolutely vital that retail, restaurants, hotels, clubs, venues and service businesses are rooted in the character of the city. It's what makes the city distinctive and gives it character. That said, international brands and familiar names is a vote of confidence in the city too. Case in point is Hawksmoor, who serve the best steak in town, and keep the standards high, and Bundobust.
Q. Which independent restaurants and bars would you recommend?
So I do a regular instagram feature called 'Lunch of the Month' and though some winners have been from Stockport where I work a lot, the absolute Manchester favourites have been Koffee Pot, Cafe Mahabara, Viet Shack, R&V sandwich shop, Philpotts, Hip Hop Chip Shop, Buzzrocks in Hulme, the Venus cafe, Kurdistan in Rusholme and at the quality end of the market Nammi on New York Street.
Q. What would your perfect day in the city centre entail?
One of my best ever days in the city was showing a mate from Australia around. We had a mooch around the Northern Quarter, Piccadilly Records, Oi Polloi, Bags of Flavour, lunch at a rice and three, took in an author talk at the Central Library, John Rylands Library, Drinks at Home and the Anthony Burgess Centre.
Q. How do you see the city changing over the coming years?
For the better hopefully, but we need more houses and facilities and do something about the hell hole that is Piccadilly Gardens, the Britannia Hotel and a better gateway into the city than the ramp from Piccadilly currently offers.
Thanks to Michael Taylor for this brilliant insight and wonderful support to the independents business community, and for his passion for all things Northern.