As an independent Commercial Property Investment Agency, we have created a campaign to show our support for local, regional and national independent businesses.
For our sixth interview, we interview Vikas Shah MBE, CEO of the Swiscot Group and Non-Executive Board Member of the UK Government's Department for Business, Energy & Industrial Strategy.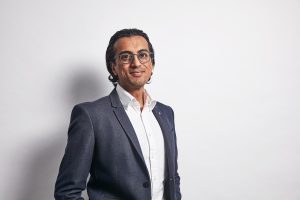 Q. How long have you been based in Manchester and how have you seen the city change over the years?
I've lived and worked in Manchester for the majority of my life. The city has changed so much in my lifetime; growing up in the 1980s, I saw a city which was coming out of the decline of the industrial era, and facing numerous challenges – today, Manchester is a thriving, cosmopolitan city with a strong cultural scene, which competes against many other European cities as an attractor.
Q. In your opinion how important is it to the city to have a strong group of independents…
The independent sector is critical to the heartbeat of any city. Owner-managed and independent businesses have a different level of passion, a different reason to be, they are more than a profit centre on a corporate balance sheet. Independents are also much more localised, much more designed around the culture of the place and space, and often bring innovation in retail, food and leisure in a way that the generic operators cannot. New York as an example, has thrived on a large amount of independents complementing the global brands, and creating a unique, powerful, personality to the place.
Q. Which independent restaurants and bars would you recommend?
Rise (Wilmslow) does outstanding coffee!
Scene (Spinningfields, Manchester) is a brilliant Indian restaurant.
Greens (Didsbury), is still my favourite restaurant in Manchester.
Foundation have 3 sites in Manchester, and do outstanding coffee and are great places to work and meet.
Sip (West Didsbury), incredible independent wine bar.
Q. What would your perfect day in the city centre entail?
My perfect day in the city centre would be something cultural, lots of coffee, lunch & dinner with friends, and just walking and enjoying the architecture and surroundings of this place.
Q. How do you see the city changing over the coming years?
For all the growth, Manchester is still facing challenges around poverty, marginalisation and productivity; in the past few years, my hope is that policies change to really ensure the people left-out of the growth of GM get included, and can join the vibrant future of this remarkable place.
Thanks to Vikas Shah MBE for his insight, strong list of recommendations and support to the independents business community in Manchester and beyond.
It is now a month since starting my new venture, Wildbrook CRE, along with Mark Hawthorn. It has been a very busy time, with lots going on and despite a lack of supply of investment sales in the marketplace, it has been hectic. The ability to use initiative and be proactive is something that I […]
1ST FLOOR, XYZ BUILDING, 2 HARDMAN BOULEVARD, SPINNINGFIELDS, MANCHESTER M3 3AQ