Reasons to be cheerful – Industrial and Logistics.
Q2 2021 was a remarkable quarter for the industrial and logistics sector in the North West. The evidence in Q2 2021 shows that the quarter was the strongest Q2 since 2016, and the second strongest for over 10 years.
In total during Q2 2021, there were 36 recorded investment transactions, totalling in excess of £177m. This provided an average weighted yield of 4.65%, the lowest/sharpest average weighted yield in the sector in the North West on record.
Of the North West transactions in Q2 2021, the stand out deal was the sale of the Royal Mail delivery office by Aviva's Lime Property Fund, to a notable Manchester based investor developer for £45m. This sale represented a 2.75% net initial yield, with a lease in place to the Royal Mail until April 2030. The asset provides good solid income for a further 8.75 years and offers attractive re-development prospects in the longer term.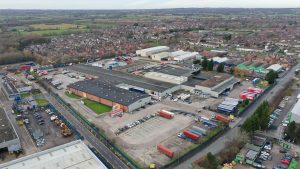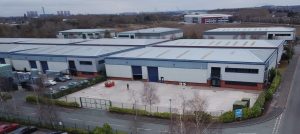 Other notable transactions include Haworth Group's acquisition of Towngate Business Park in Widnes and London Metric's acquisition of 910 Europa Boulevard in Warrington.
Wildbrook CRE have been active in the sector with various off-market acquisitions on behalf of clients. The view of the sector is that demand will continue from both occupiers and investors. Due to the dearth in supply of good quality stock along with the sector now being a relative safe haven for investors to acquire in, industrial and logistics will continue to thrive in both the single-let and multi-let industrial markets.
There is also the lack of building materials in the sector, that has led to lead times on projects being put back by months as opposed to weeks. Apparently if you order aluminium cladding now the lead time has increased from a few months, to Q2 2022 – that's 9 months! Warehousing is the commercial asset class most affected by this squeeze on construction, adding that the sector was competing for limited resources with residential development and large infrastructure projects such as HS2.
Appetite for construction is certainly there, but that the closure of a major port in China, the blockage of the Suez Canal earlier this year, the Covid-19 pandemic and the Brexit-induced labour shortage have all combined to create a bottleneck in British construction.
This will add more spice to the supply and demand imbalance for the industrial and logistics sector, likely to allow for rental growth for the prime assets but also a continuing rise in capital values and yield compression. The sector will continue to be hot for all investors, but maybe with a development lag forecast, it could be time to focus a little attention on alternative sectors that provide both security of income but also a yield arbitrage to make it attractive enough to do so.
Silence can be golden – Offices.
It seems that offices are back at it, even if office workers are not yet fully back to the office. So, don't fully believe the (sometimes negative) hype.
In the North West during Q2 2021, there were 15 recorded investment transactions, totalling in excess of £184m. This provided an average weighted yield of 5.78%, the lowest/sharpest average weighted yield in the North West since 2014.
In 2016 there was the Brexit Referendum and an ominous outlook at the time for UK offices, where it was reported that major employers would decant in to European locations. However, despite the hype, the majority of occupiers remained and the sector gained strength (that generally went unnoticed in the press).
Details are shown below, in relation to the office investment activity pre and post the Brexit referendum: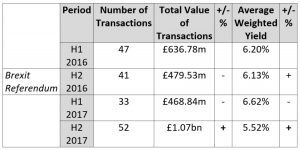 Of the North West transactions in Q2 2021, the stand out deal was the acquisition of No.8 First Street by Ashtrom Properties, acquired for £82m and representing a 5.60% net initial yield. No.8 First Street is a multi-let office building, with tenants including Gazprom, Willis Towers Watson and WSP.
The pandemic has more elbow room at the boardroom table compared to Brexit, but offices will remain the place of work for most, as homeworking becomes lonely, lacklustre and the ability to maintain professionalism becomes questionable. At 12 months following the Brexit referendum date (and still without a Brexit agreement going in to H2 2017), the value of North West transactions in H2 2017 surpassed the H2 2016 by double the amount of investment value – 'despite Brexit'.
Previously, in our Wildbrook CRE Spring Newsletter to clients, we highlighted that so far in 2021 key office transactions include No.8 First Street and Windmill Green. The two transactions total in excess of £110m of value. We highlighted that both offer modern workplace environments, with First Street offering a vibrant neighbourhood zone and Windmill Green being more centrally located but offering strong ESG credentials and rooftop terracing for wellbeing, networking, social etc, which also includes an apiary (beehives). Both provide better spaces and amenities than what you would get from working at home.
Take a look at Hyphen and Bloc in Manchester, for examples. Aside from the Grade A office work space provided, Hyphen also offers an on-site premium coffee shop, lifestyle gym and wellness room. Bloc includes Biophilia design throughout and offers a state of the art yoga studio, independent coffee shop, cinema room and sleep pods.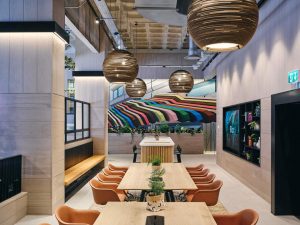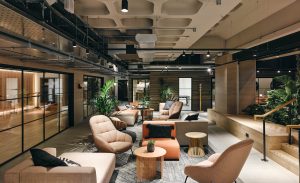 This specification and personal approach is key to the office sector moving forward.
Neil Higson of Wildbrook CRE was a guest speaker at the Insider North West 'Future Workplaces' roundtable event in June, where Rob Morton of CEG suggested, "I don't think it's the death of the office, I think it's the death of the mediocre office".
The novelty for employees at present is working from home, whereas office landlords and employers/tenants need to create an environment in which the novelty is to come in to the office.
We believe that there is value at present in the office investment market, in a short term window of opportunity now due to an imbalanced investor appetite. By H1 2022, we believe that most office sector workers will be back in the office and by H2 2022 there will be an element of normality in the sector – albeit the hybrid model will remain as a legacy from the pandemic but will be altered accordingly by way of business sectors. The RICS Q2 Commercial Market Survey also backs this up to an extent, highlighting that demand appears to be stabilising across the office sector and feedback turns broadly neutral regarding office demand. The Central London prime office market now displays stable rental growth expectations, marking a significant turnaround from the deeply negative assessment returned over recent quarters. Should the rental growth be experienced, this will provide a catalyst for the investor confidence in the Big 6 UK Cities, and the ripple effect should begin.
To read full coverage of the Insider North West – Future Workplaces' roundtable, see the following link: https://www.insidermedia.com/roundtables/future-workplaces
Wildbrook CRE
We are looking forward to September with the 'back to school/back to work' ignition, and it will be a busy H2 2021 for the property industry with various sales in the pipeline.
For Wildbrook CRE, it has been an active H1 this year with various disposals and acquisitions completed and ongoing, and we look forward to building on this success with our clients.